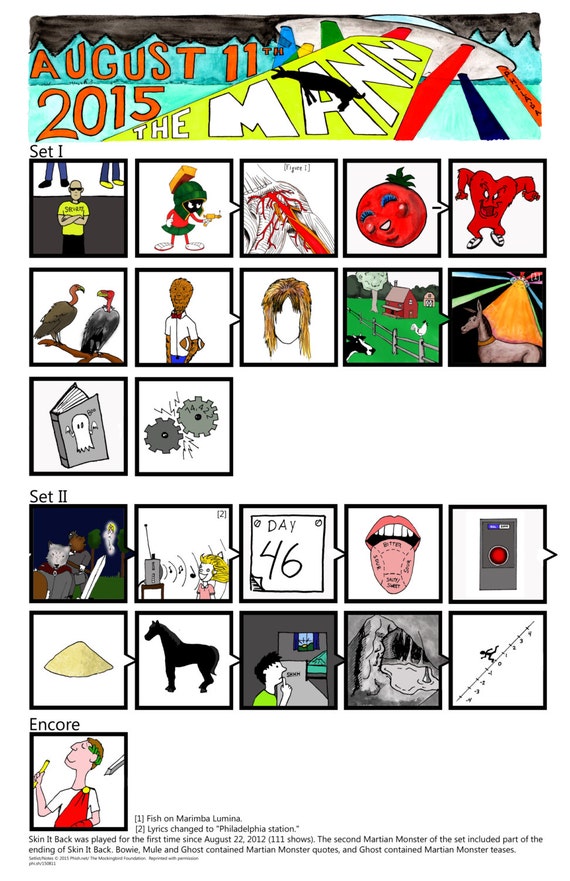 Soundcheck: Skin It Back, Scents and Subtle Sounds, Vultures, Sing Monica
Set 1: Crowd Control, Martian Monster > Axilla, Skin It Back -> Martian Monster,Vultures, Dog Faced Boy > David Bowie, Farmhouse > Scent of a Mule[1], Ghost,Grind
Set 2: Fuego > Rock and Roll[2] > 46 Days -> Taste, Also Sprach Zarathustra >Sand > The Horse > Silent in the Morning > Cavern > Backwards Down the Number Line
Encore: Julius
[1] Fish on Marimba Lumina.
[2] Lyrics changed to "Philadelphia station."
Teases:
· Skin It Back tease in Martian Monster
· Martian Monster quote in Scent of a Mule
· Martian Monster and Mercury quotes in David Bowie
· Martian Monster quote in Ghost
Notes: Skin It Back was played for the first time since August 22, 2012 (111 shows). The second Martian Monster of the set included part of the ending of Skin It Back. Bowie, Mule and Ghost contained Martian Monster quotes.  Mike teased Mercury in Bowie. Mule also contained a Marimba Lumina solo from Fish. Rock and Roll's lyrics were changed to reference Philadelphia.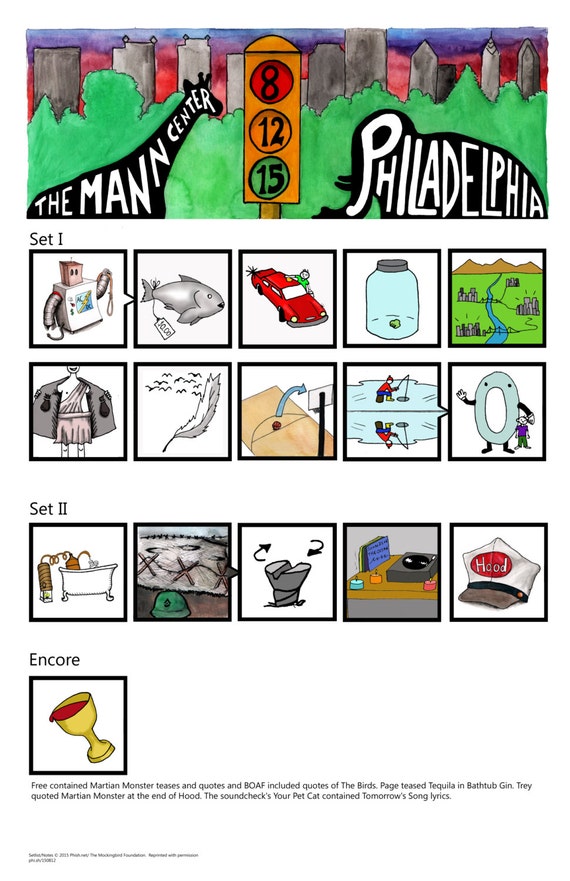 Soundcheck: Your Pet Cat
Set 1: AC/DC Bag > Free, Ya Mar, Sample in a Jar, Cities, Stash, Birds of a Feather,The Line, It's Ice > Character Zero
Set 2: Bathtub Gin, No Men In No Man's Land > Twist, Scents and Subtle Sounds,Harry Hood
Encore: Loving Cup
Teases:
· The Birds tease in Birds of a Feather
· Martian Monster tease & quote in Free
· Martian Monster quote in Harry Hood
· Tequila tease in Bathtub Gin
· I Want You Back tease in Ya Mar
Notes: Free contained Martian Monster teases and quotes, Mike teased I Want You Back in Ya Mar, BOAF included quotes of The Birds, Page teased Tequila in Bathtub Gin and Trey quoted Martian Monster at the end of Hood. The soundcheck's Your Pet Cat contained Tomorrow's Song lyrics.
setlist/notes © 1990-2015 The Mockingbird Foundation, Inc.