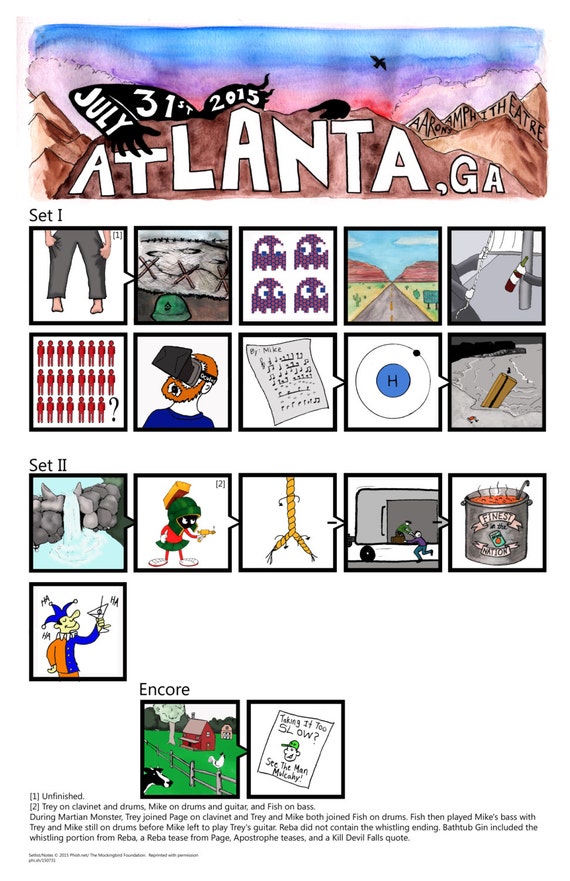 Set 1: Prince Caspian[1] No Men In No Man's Land Ghost The Wedge The Moma Dance How Many People Are You? Rift Mike's Song I Am Hydrogen Weekapaug Groove
Set 2: Kill Devil Falls Martian Monster[2] Twist Back on the Train Reba[1] Bathtub Gin
Encore: Farmhouse Character Zero
[1] Unfinished.
[2] Trey on clavinet and drums, Mike on drums and guitar, and Fish on bass.
Teases:
· Reba, Apostrophe, Kill Devil Falls, and Funkytown whistlings in Bathtub Gin
Notes: Caspian was unfinished. During Martian Monster, Trey joined Page on clavinet and Trey and Mike both joined Fish on drums. Fish then played Mike's bass with Trey and Mike still on drums before Mike left to play Trey's guitar. Reba did not contain the whistling ending. Bathtub Gin included the whistling portion from Reba, a Reba tease from Page, a Funkytown tease from Mike, Apostrophe teases, and a Kill Devil Falls quote.
Setlist/notes © 1990-2015 The Mockingbird Foundation, Inc.