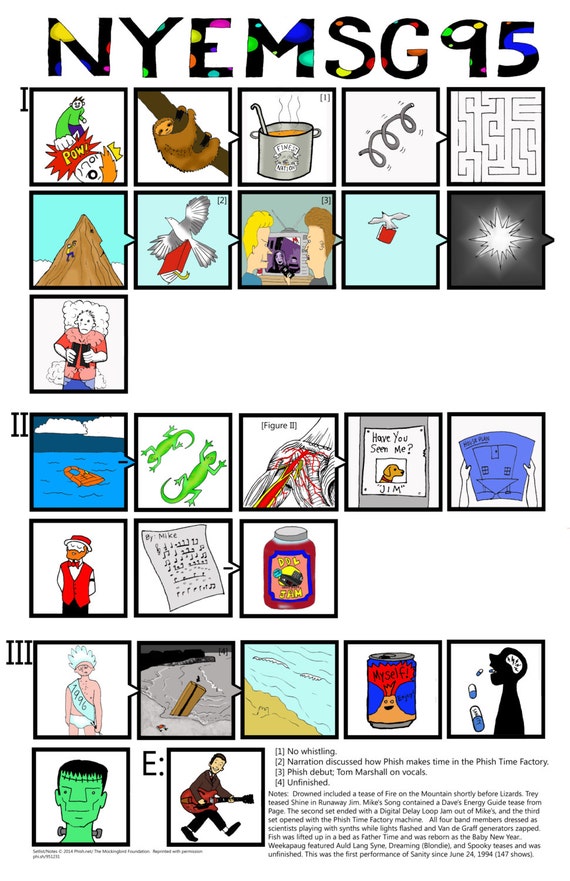 Edition limited to 25.  Available for sale
Set 1: Punch You In the Eye, The Sloth > Reba[1], The Squirming Coil > Maze, Colonel Forbin's Ascent > Fly Famous Mockingbird[2] > Shine[3] > Fly Famous Mockingbird >Sparkle > Chalk Dust Torture
Set 2: Drowned -> The Lizards, Axilla (Part II) > Runaway Jim, Strange Design, Hello My Baby, Mike's Song -> Digital Delay Loop Jam
Set 3: Auld Lang Syne > Weekapaug Groove[4] > Sea and Sand, You Enjoy Myself,Sanity, Frankenstein
Encore: Johnny B. Goode
[1] No whistling.
[2] Narration discussed how Phish makes time in the Phish Time Factory.
[3] Phish debut; Tom Marshall on vocals.
[4] Unfinished.
Teases:
· Dave's Energy Guide tease in Mike's Song
· Auld Lang Syne, Dreaming, and Spooky teases in Weekapaug Groove
· Shine (Collective Soul) tease in Runaway Jim
· Fire on the Mountain tease in Drowned
Setlist and notes © 1990-2014 The Mockingbird Foundation, Inc.